Jeri's Unplanned Adventure has ended

NB! The Wish Site has been repaired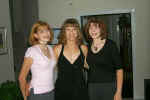 Many friends have suggested a web site as a way of keeping up with news about Jeri's diagnosis with bone cancer (osteosarcoma). I've learned a bit about web publishing and it's been good therapy. We've graduated from basic web publishing to java applets and our own domain. Now those guys at work better be careful when they tell me what they can and can't do with this stuff.
-Brit
Click on pictures to get a larger version
Jeri enjoyed her wish.................
Jeri went on her "Make a Wish" trip to sunny (we hope) Los Angeles to see a taping of the TV show 7th Heaven (WB Network) and meet the cast. There are pictures and a travelogue for those who dare venture forth to read. Thanks to Cantoni for sponsoring the trip.
--Brit

You are visitor #

Brit: brit@stickyshoe.com
Virg: virg@stickyshoe.com
This page last updated: June 17, 2006